QuickBooks Desktop Pro offers the features of a core accounting software. It allows you to make deposits as well as process payments. You may also run the payroll, or send and keep a tab on invoices. Other core features include key accounting options, including accounts payable and receivable, inventory, and sales tax management.
Trust is an important component of any business. QuickBooks Desktop Pro is one of the introductory versions of the Quickbooks suite, which seeks to provide you with the same. In case your priority is to manage all your finances from the security of your desktop, this version is ideally suited for you.
Since it is the introductory version of the QuickBooks Desktop suite, it is relatively easy to use, and to learn. Accounting knowledge is not a pre-requisite, and data can be easily imported from a spreadsheet.  
When is it best to use QuickBooks Desktop Pro?
The following situations are when you can consider using QuickBooks Desktop Pro:
Management of several companies at one go: With just one subscription, the user is entitled to manage the books of several companies. Thus, QuickBooks is the most appropriate accounting software in this regard.
Concerns of safety: In case you are not comfortable with logging in to your QuickBooks from different logins for fears of security being compromised, you can rely upon QuickBooks Desktop Pro.
Minimum inventory requirement: In case the requirements for inventory are not too much, QuickBooks Desktop Pro is enough for your usage.
Employment of in-office book keepers: In case the company employs a book keeper who works in the physical campus, they can use this software. The book keeper would check the books straight away from the desktop owned by the company.
What are some of the new features in QuickBooks Desktop Pro for 2023?
Payment Links: The software allows you to create customized links for the purpose of payment. These facilitate payment from the customers. Once the link has been created within QuickBooks, the system automatically redirects an email to the vendor. The email link would contain the details of the payment to be made, as well as the pay button.
Cash flow Hub: This is a new feature which allows the user to manage all their cash flows in one place. Account balances may be viewed with ease. New accounts can be added, and reports can be drafter about the overall cash flow.
Benefits of using QuickBooks Desktop Pro
Following are some of the main benefits of using QuickBooks Desktop Pro as your main accounting software:
Comprehensive Financial Management: QuickBooks Desktop Pro provides a comprehensive suite of tools to manage various financial aspects of a business, including invoicing, expense tracking, payroll processing, and financial reporting. Users can efficiently handle tasks such as creating invoices, recording expenses, and generating financial statements, streamlining their financial operations.
User-Friendly Interface: The software's intuitive interface makes it accessible to users with varying levels of accounting expertise. Its user-friendly design allows business owners and accountants to quickly learn the ropes, reducing the learning curve and enhancing overall productivity.
Customization Options: QuickBooks Desktop Pro can be tailored to suit the specific needs of different industries and business types. Users can customize invoices, charts of accounts, and reports to reflect their brand identity and meet industry requirements effectively.
Data Security: Security of financial data is paramount, and QuickBooks Desktop Pro offers features that help protect sensitive information. It enables users to set user permissions and access controls, ensuring that only authorized personnel can access sensitive financial data. Data loss cannot happen in this software.


In-Depth Reporting: The software's reporting capabilities allow users to gain valuable insights into their business performance. It offers a variety of pre-built financial reports, and users can also create custom reports tailored to their specific needs. These reports aid in making informed decisions and tracking key performance indicators.


Multi-User Collaboration: QuickBooks Desktop Pro supports multi-user access, enabling multiple team members or accountants to work on the same file simultaneously. This collaborative feature enhances teamwork and allows for real-time updates and data accuracy.


Integration Capabilities: The software can be integrated with a range of third-party applications and services, such as banking platforms and e-commerce platforms. This integration streamlines data entry processes and reduces the likelihood of errors.


Offline Access: Unlike cloud-based accounting solutions, QuickBooks Desktop Pro operates offline, which can be beneficial for businesses with limited or unreliable internet connectivity. Users can access and work on their financial data without dependence on an internet connection.


Data Backup and Recovery: QuickBooks Desktop Pro provides users with control over data backup and recovery. Regular backups can be scheduled to prevent data loss in case of unexpected hardware failures or other issues.


Tax Preparation: The software simplifies tax preparation by categorizing expenses, tracking deductions, and generating reports that assist during tax season. This feature can save businesses significant time and effort when filing taxes.


Full Refund:  The advantage of using QuickBooks Pro is that in case the user is dissatisfied with some aspects of Quickbooks Desktop Pro, they may ask for a full refund within 2 months of having purchased the product.
Features of QuickBooks Desktop Pro
QuickBooks Desktop Pro can support up to three users at the same time.  It may be noted that each of the users needs to possess their own individual Quickbooks user license.

Thus, in case only a couple of accountants or book keepers are required for the business, QuickBooks Desktop Pro is the correct choice for you.


Also, in case you are new to QuickBooks, it is better to start off with QuickBooks Desktop Pro. This is because Desktop Pro is a cost-effective tool. It is easily manageable: this is because it acclimatizes you with the basics of the business – including how to create an invoice, as well as how to track the bills.


QuickBooks Desktop Pro is also useful in tracking the expenses, as well as income on a side business. For instance, you might be making some investment in to your part time online blogging website. You might not be entirely sure whether you are deriving some profits from the venture. Consequently, you can rely upon QuickBooks Desktop Pro to organize all the information. The systematic reports will help you in understanding whether you should continue to pursue it as a side venture; or whether you also need to pay some additional taxes on this.


Similar to other versions of QuickBooks Desktop, Desktop Pro is suitable for operations in case you need to manage the finances of more than one company. Thus, you may have an account on Desktop Pro which is handling the financial details of the main company. At the same time, you may also create another file for personal finance, as well as for your side hustle, within the same version of QuickBooks.
Services offered by QuickBooks Support Team
QuickBooks Desktop Pro is a simple enough software to learn. At the same time, in case you require assistance in understanding the features, or in navigating the features, you may contact us for assistance. Our executives are certified by Intuit, and provide assistance to clients across the globe. The services that are available include: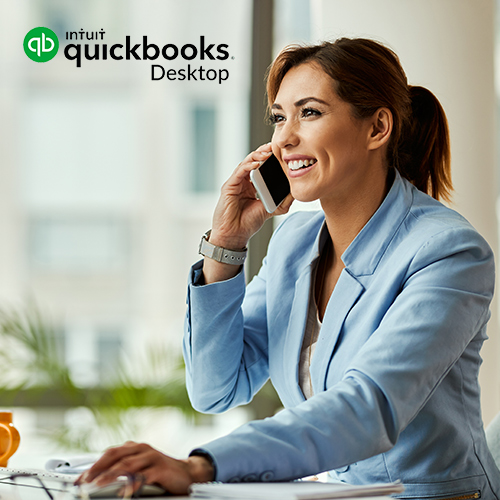 Why you should choose us?
The values that our team demonstrates are professional, and co-operative in supporting your requirements:
The support team is determined to provide value to the customers. They provide them with appropriate guidance on all the problems that they are encountering.
The executives working for us also have diverse experience in working through different problems. Consequently, the chances are that you are not the first person to experience a particular issue.